Fourth of July has us feeling inspired to let freedom ring on the home front—and we do mean of the home décor variety. Taking a cue from the independence theme, we're leading a revolution against style norms with an approach to interior design that's full of liberation, surprise, and beauty. Read on for star-spangled ideas, click to shop the furniture, and visit your store to score amazing accessories.
Starting with our Fabulous Fusion room, we hereby free you from the idea that décor needs a singular style. Instead, try mixing styles and accents for a decidedly unique result. Here we paired our classic Kirkland sofa with the modern Savoy bookcase and the ultra-chic Jet Set nesting table. We continued the eclectic theme with a variety of metals, including the gold leaf finish of the table, the brass nailhead trim on the sofa, silver drawer pulls, and plenty of accents—which run the style gamut from coastal to mid-century. Throw in a boldly painted wall and the result is nothing short of fireworks.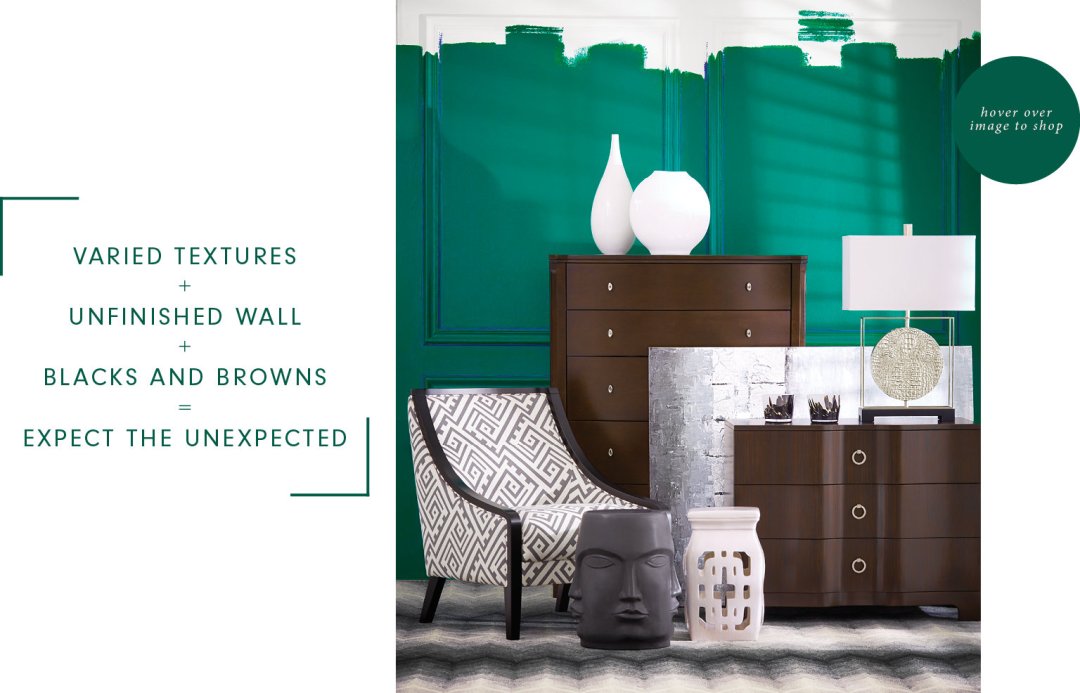 Next we prove that beauty can be found in the perfectly imperfect with our Expect the Unexpected room. By styling the ever-refined Vance accent chest and Verona drawer chest against an unfinished wall, we created a gorgeous juxtaposition of polish—take note of the blue-accented interior molding that adds depth and interest. We also play with textures and colors, from the serpentine accent chest and snakeskin-embossed lamp to the combination of black and brown finishes. The designer-inspired floor accessory brings the funk, along with a chevron area rug that both complements and contrasts the geometric pattern of the Tribeca chair.
Finally we're taking the conventional into unchartered territory with our Blue Beauty room. Using an area rug as an alternative to wallpaper and adding a stained glass effect to our Alexis cabinet—DIY directions here—we love the idea of designing outside the box. Our tropical Empress chair takes on artfully ambiguous form in its dramatic setting, showing that interior design can always color outside the lines. And by piling on the pattern with accents like the Broham table lamp, pillow, and tchotchkes, we're ready, white and blue to celebrate a true independence of style.